A saying we often use is, "the market is fluid" - meaning the real estate market changes by the day. New listings come and go, and inventory and sales prices fluctuate. We do see some interesting anthropological trends in the market, and the proof is in the numbers.
One very interesting COVID-influenced trend we're still tracking is the move to single-family homes from condos in the city. Will people realize that the city is still a great place to live and the suburbs aren't as walkable, don't offer as many amenities, etc? Will people stay put in the 'burbs? Will more buyers enter the condo market as we're seeing more opportunities arise for them? How have these factors influenced inventory and pricing?
To keep on top of the market trends here is a high-level year-over-year update for single-family, condo, and multi-family sales stats.
Single-family home inventory is very low and prices are going up, providing great opportunities for sellers.
While condo inventory is still high and "good inventory" can be scarce in areas, there are still terrific opportunities for buyers who are willing to dig through the inventory. The median sales price is down about 5% from last year. The silver lining is that pending sales are up in the Boston area and the condo market is looking up.
Multi-family home inventory is above where we were at this time last year and average sales prices are down.
Pending sales are up for 3 quarters in a row and inventory levels, while still high, are moderating slowly. Keep in mind that these numbers are Year over Year, Year to Date, meaning that they are changes that have happened since last February - before the pandemic hit.
We'd love to hear from you! Has COVID influenced where you have, or would like to, live? Do you think these trends are here to stay? Let us know your thoughts!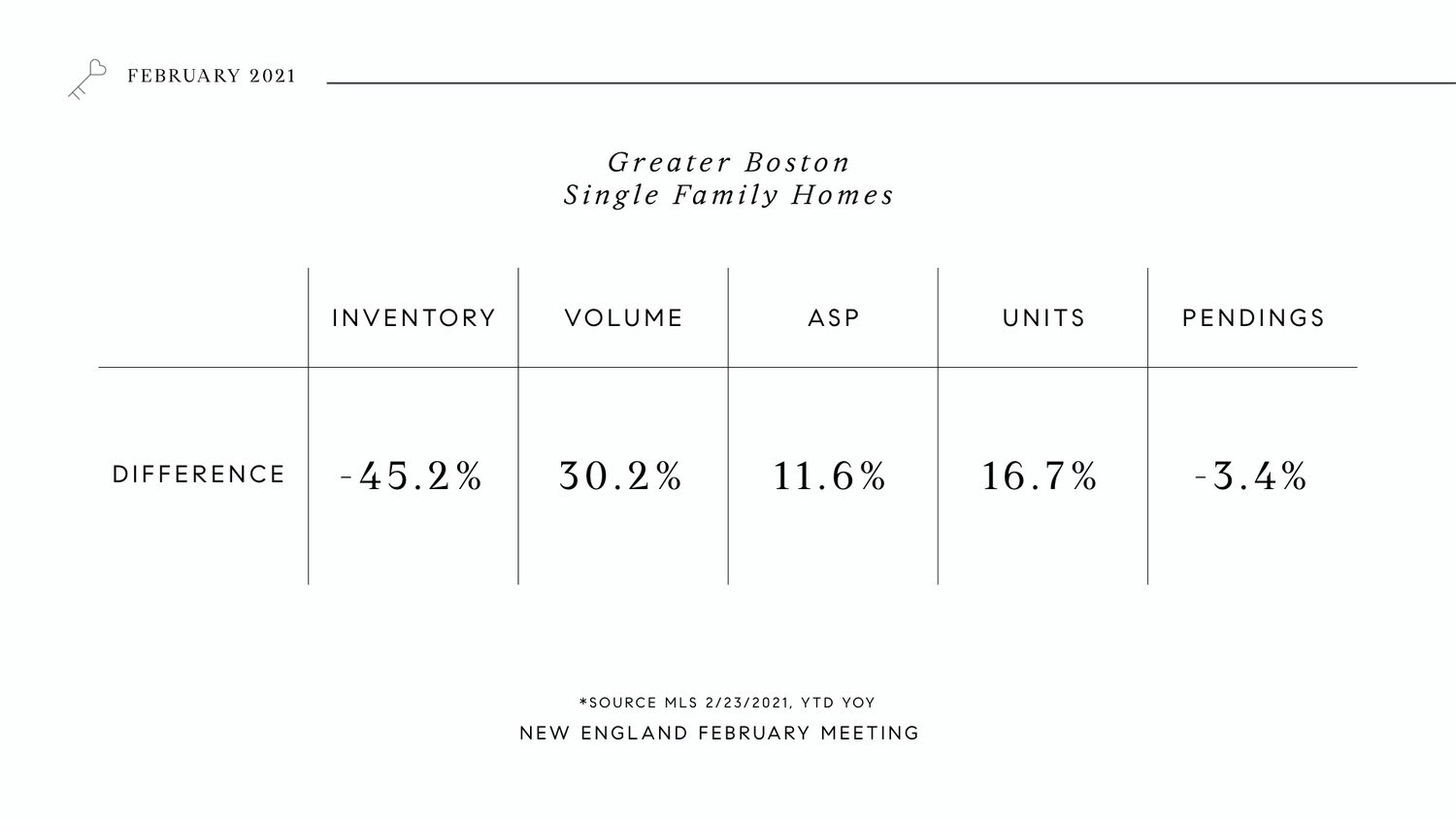 Greater Boston Single Family Home Market - Feb 2021, YOY
Greater Boston Condo Market - Feb 2021, YOY